Two animals symbolize the Solar Scorpio – an eagle and a scorpion. The eagle is able to reach great heights, as it mastered the lower instincts and overcame passions for temptation in the sensual sphere. The eagle has risen above the physical world, having revived itself. Scorpion, however, represents those who have not yet regenerated their thoughts and actions, and still live a degenerate life. They use their cunning and strike when the least expected of them. They are the ones who satisfy their passions regardless of the consequences.
People born under the sign of Scorpio are generally ambitious, productive, courageous, resourceful and have an extraordinary intuition, but, along with this, they can also be jealous, sarcastic, vindictive, stubborn, possessive and vindictive. Scorpios are people who enjoy challenging tasks. They love work that requires constant, determined effort and intense concentration. They are born detectives.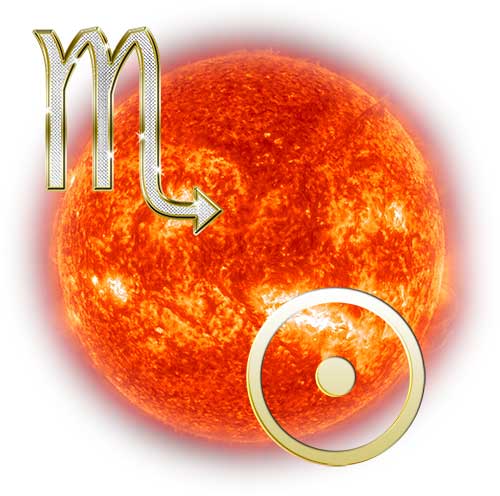 Scorpios are given a strong will and determination to achieve their goals. They have an analytical mindset, strong intuition, judgment and perception, ability for long-term planning, magnetism and energy. Scorpios hold very definite opinions, and they can be so harsh that no amount of persuasion will make Scorpios change them.
Scorpios make friends with ease and are unwaveringly loyal to them. In this relationship, they would like to know what plans others have, but due to secrecy, they do not necessarily let their friends know about their plans. Such people are willing to go to extreme self-sacrifice for the sake of those they love. If someone close and loved to them is threatened, they accept their pain as their own. This instinctively drives them out of themselves, either conditionally or physically.
Due to the fact that the Scorpio's subconscious is better controlled than their consciousness, they lose all common sense if they are criticized. In attack, they can effectively use both silence and sarcasm. Unfortunately, their sarcasm can turn vindictive. They can and will wait as long as possible to get their revenge. Scorpios need to learn to forgive.
It is almost impossible to deceive a Scorpio due to their strong intuition, which allows them to understand the motives of other people. Their first impressions of other people are very strong – either sympathy or dislike for the person involved.
Scorpios need to learn flexibility in both thought and action. Once their course is set, it is difficult for them to change anything. Trivial things are boring to Scorpios and they prefer depth in affairs and relationships rather than superficiality. And the more intense the better. In whatever they do, they immerse themselves completely, half measures are not for them.
Scorpios tend to go to extremes – either all or nothing. They always have to get to the bottom of what interests them. They should know everything, while remaining mysterious and secretive. This does not show up the first time, but there are strong emotions and desires in long-term work with Scorpios. This strength is one of the reasons for their great endurance. They sometimes trample others in their battles, which is why they are sometimes classified as great saints or great sinners.
Scorpios consider themselves their own judges, juries and executioners, while punishing themselves sometimes unjustifiably. They are self-sufficient, but not necessarily overconfident. They rarely seek recognition or want to be the center of attention. Scorpios are generally healthy, but they tend to be permissive in eating, using drugs, having sex, or having a drinking problem.
In love affairs, Scorpios are loyal, affectionate, demonstrative, while they love to control and are great owners. They are happy with one partner with whom they can combine emotional and sexual love.
Share with your friends. +5 to CARMA