The ascendant in the natal chart, like any other astrological house, has its own ruler. This ruler is the planet that controls the ascendant sign. For example, if the ascendant is in the sign of Capricorn, then Saturn will be its ruler. The ruler of the ascendant is considered to be the main ruler of the chart, the entire horoscope.
Table: the sign of the Ascendant and its rulers:
| Ascendant sign | Senior manager | Junior ruler | HOUSE |
| --- | --- | --- | --- |
| Aries | Mars | Pluto | I |
| Taurus | Venus | – | II |
| Gemini | Mercury | – | III |
| Cancer | Moon | – | IV |
| Leo | Sun | – | V |
| Virgo | Mercury | – | VI |
| Libra | Venus | – | VII |
| Scorpio | Pluto | Mars | VIII |
| Sagittarius | Jupiter | Neptune | IX |
| Capricorn | Saturn | Uranium | X |
| Aquarius | Uranium | Saturn | XI |
| Pisces | Neptune | Jupiter | XII |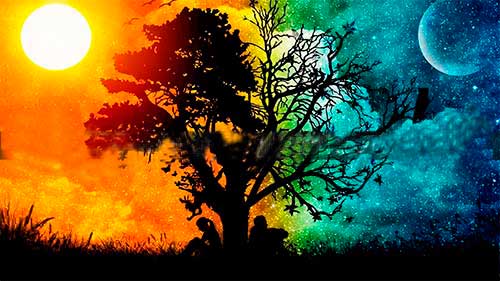 According to the table, we determined the ruler of the ascendant, but in addition to this, it is also necessary to analyze the power of the ruler. If it is in abode or exaltation, such a person will feel more confident in life. If the planet is in exile or fall, this suggests that a person will have to overcome more difficulties.
Map Ruler Planet Power
The relationship of the ruler's planet with the signs of the zodiac changes the energy of the planet, and thus imposes its own filter. For example, if the lord is in the monastery, then we are dealing with the pure energy of the planet without impurities and additives.
The planet in the abode – shows the pure qualities available. Such people have a born talent, they do not make any efforts, everything is given to them with ease in the area for which the planet is responsible.
A planet in exaltation – indicates a certain specific talent, it manifests itself more narrowly than a planet in an abode. This is a good guideline for choosing a profession, what you need to strive for.
Planet in exile – indicates a lack of some qualities in the area for which this planet is responsible. The likelihood of problems. This is the lowest energy on the planet.
A planet in decline – shows the lack of qualities in a narrower sphere for which the planet is responsible. Is the opposite of exaltation.
Table: the strength of the planet in the sign
Planet

Abode

Exile

Exaltation

A fall

Sun

Leo

Aquarius

Aries

Libra

Moon

Cancer

Capricorn

Taurus

Scorpio

Mercury

Gemini
Virgo

Sagittarius Pisces

–

–

Venus

Libra
Taurus

Aries
Scorpio

Pisces

Virgo

Mars

Aries
Scorpio

Libra
Taurus

Capricorn

Cancer

Jupiter

Sagittarius
Pisces

Gemini
Virgo

Cancer

Capricorn

Saturn

Capricorn
Aquarius

Cancer
Leo

Libra

Aries

Uranium

Aquarius
Capricorn

Cancer
Leo

Scorpio

Taurus

Neptune

Pisces
Sagittarius

Virgo
Gemini

Aquarius

Leo

Pluto

Scorpio
Aries

Taurus
Libra

Leo

Aquarius
The weakness of a planet that is in fall or exile manifests itself due to the incompatible nature of the sign, the energy of the planet is blocked and cannot be projected. Hence the problems in the sphere of human life, everything is given with difficulty, titanic efforts must be made, a person often steps on the same rake.
Share with your friends. +5 to CARMA