Direction – East.
Green colour.
Personality formation largely takes place in the depths of the family, and a lot of personality behavior will depend on upbringing in the family.
In the family sector, it is good to have any plant species, except thorny ones. Since the East reflects changes in life, then before activating it, think carefully about whether it is worth doing, suddenly everything suits you and life goes on as usual and you shouldn't change anything. If, on the contrary, the desire to change something in your life is ripe and some problems prevent you from moving forward, then feel free to start activating this sector. Add water to this sector, it gives nourishment to the Tree.
To activate the eastern sector of the family, you can place a blue vase with beautiful flowers or a painting depicting a calm river that is directed towards you or a forest lake with clear water. In the eastern zone, it would be appropriate to place a symbol of longevity – this is a peach tree, flowering or fruiting, or its fruit itself. By the way, the Dragon is a resident of the East, and he is considered one of the strongest symbols, which in turn has strong protective properties, being under his patronage means reliable protection for the whole family.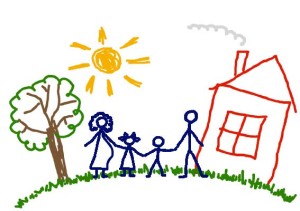 Everything related to family affairs, the relationship between children and parents, the relationship between grandmothers and grandchildren, etc. – all this is reflected in the eastern sector. Always look after the eastern sector and you can improve family relationships and even replenish your family.
In the east, it is good to have a family tree – it will be a good symbol of the prosperity and well-being of your family. Keep an eye on its appearance and health, as this tree will represent the growth and health of your family.
Items that are placed in the family sector

Family documents and photographs, souvenirs, heirlooms, any dragon symbols, beautiful paintings with a pond, any plants, a family tree.
Share with your friends. +5 to CARMA