Solar Gemini are friendly, intelligent, talkative, versatile, inquisitive, receptive, intuitive and logical. They can also be quite conflicting, restless, two-faced, impatient and critical at times. Gemini are people who love and need a variety of work, as they like to do several things at the same time, from time to time this becomes the main reason for their being late for meetings. They hate boredom.
Gemini tend to jump from one case to the next, collecting all the information along the way, but rarely going into the details of any project. They go wide but shallow. Perseverance is not strong point of Gemini. Acquiring knowledge and spreading it is a talent that they have, which is why Gemini make great salesmen and teachers if they stick to one goal and collect all information about a subject, not superficial facts. But even if they do not have all the information, they will never get lost and will find words to express their point of view, as if they had complete information and facts.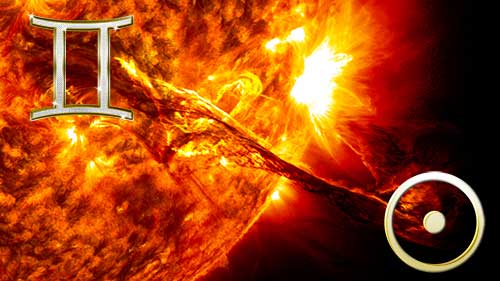 For people born under the sign of Gemini it is very important to constantly seek intellectual gratification. Mental stagnation drives them crazy, which is why they read and communicate so much, quenching this thirst for mental activity for their minds. This discontent can either make them very ambitious or cause them to rush from one case to another, in search of a better option that may never appear.
Problem solving usually comes to Gemini's head on the fly, they react just as quickly and confidently, at the same time they have the ability to use the right words in any situation. They have a wit and a good sense of humor, although the people around them may have difficulties, due to their rapid change in the subject of attention.
Because Gemini thinks very quickly, they often finish other people's phrases, which can be frustrating for a person trying to express their thoughts. Such individuals need to learn to control their speech and allow people who speak more slowly to express their own opinions and ideas.
Since Solar Gemini have the ability to see both sides of any issue, they can oscillate back and forth between opposing points of view. They, as a rule, are of the opinion of the side who is directly next to them at the moment. Then they change, just as circumstances change. Indecision is a problem for them.
Gemini are usually emotionally detached. They use the mind, not the heart, to know the true course of things, as their reference points are logic and prudence. They are able to understand what moves people around them and makes them behave one way or another in certain situations, but it is difficult for them to understand the emotional component of a person's reactions.
The main negative traits of Gemini are lack of concentration, independence, changeability, indecision, superficiality, daydreaming, while often wishful thinking is passed off as reality. They can also be pessimistic, constantly complaining about something.
Gemini just need to control their minds, since their nervous system is very unstable and if they do not learn to control their emotional state, they tend to get sick. A way out of this difficulty can be focusing not on themselves, but on the people around, helping them in solving their problems. First of all, Gemini must learn to channel energy and their extraordinary mind in the right direction.
Share with your friends. +5 to CARMA