The planet of winds and moisture, named after the goddess of love, in the horoscope shows the level of sensuality and creative energy of the native, his understanding of beauty, and also gives an idea of ​​the image of an ideal partner in a man and behavior in close relationships with a woman.
Venus in Taurus encourages a person to look for sincere, serious love and not waste his time on trifles, allowing himself, however, to flirt with pleasure, accept signs of attention from fans and spread the vibes of charm. But in the depths of his soul, the native dreams of a trusting strong union without excessive emotional passions and jealousy.
Features of a psychological portrait
It is extremely pleasant to communicate with representatives of Venus in Taurus. They are easy to contact, seductive and generous, especially in relation to relatives and friends. Material wealth and beautiful things make them happy, so they try to express their feelings through expensive gifts, soulful little things, pleasant surprises, and not words.
For Venus in Taurus, the most important thing is peace of mind and stability, which is why her wards rarely cheat on the other half: they are simply too lazy to get involved in complex emotional ups and downs and destroy the usual way of things. When communicating with a hedonist with a fine artistic taste, one should take into account the peculiarities of the planet's influence on character and behavior:
appreciates beauty in any form, external and mental, especially when they are in harmonious balance and complemented by exquisite manners;
respects intellectually developed and gracefully expressing the thoughts of the interlocutors, do not welcome swear words and familiarity;
sensual tactile pleasures are paramount – to eat deliciously, drink expensive champagne from a crystal glass to the sounds of your favorite music, stylishly decorate your apartment and your own image;
practicality prevails over romance: he cares about his partner so that he is full, dressed and provided with entertainment, but does not see the point in beautiful symbolic gestures;
the future faithful and devoted monogamous man enters into marriage rather late, because he is afraid to make a mistake with the choice;
observes family traditions, has savings for a rainy day and a stable job, usually related to finance, the beauty industry, jewelry, cooking and real estate;
he feels his person by the timbre of his voice and the manner of behaving in society.
Children with Venus in Taurus need hugs and kisses like air, and crafts and construction work fill their need for tactile sensations. They painfully perceive the lack of expensive clothing and electronics, comparing themselves to wealthy classmates.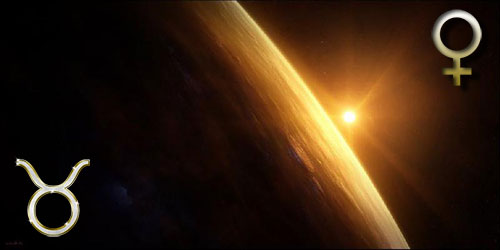 Venus male and female
A man with the planet of love in Taurus is a little lazy and prefers to surrender to the beautiful conqueror than to take the same active steps as when earning impressive financial sums. Outwardly elegant and well-groomed, he expects the same from the chosen one, whom he seeks to pamper and patronize, she only has to surprise him with culinary talents and captivate with new facets of beauty.
A suitable partner will be the owner of Venus in Libra, Taurus and Pisces, with feminine forms and large breasts, who knows how to listen, admire, give in in an argument and not escalate an emotional atmosphere, and also be both an exquisite socialite and a homely zealous hostess.
The warm energy of a woman with Venus in Taurus attracts fans with a magnet. Her beauty is subtle, her eyes and thighs are pronounced, but her sexual sweetness is incredible. She rarely uses makeup, but loves creams and body care products. Happiness comes only in the case of building a strong trusting union with a worthy man and financial solvency.
An earthly Venusian woman does not think of herself outside of traditional family values. The danger here lies in dwelling on an unattainable subject of passion: she simply is not able to switch to other options and suffers for years, dreaming of an indifferent guy or an expensive piano for concert performances. A calm and reliable man with Mars in Taurus, Virgo or Libra will suit her.
Important aspects with planets
The Taurus sign is originally the kingdom of Venus, so it is unusually strong, but aspects with some planets influence the direction of the creative profession or relationships with sisters, lovers, girlfriends and daughters.
Configurations with Saturn indicate emotional involvement and brightness of experiences with elders, and with Mercury – with younger people. Square indicates the resulting limitations in career or personal relationships and mutes the native's artistry.
Favorable aspects with the Moon help the girl to maximize femininity and sexuality, with Mars they make a man a skillful cabinetmaker and sculptor, a romantic, boldly showing feelings. Trines with Mercury promise literary talent, with Neptune – success in cinema.
Additional description
People born with Venus in the sign of Taurus are faithful and constant in love affairs, especially if their partner shows openness and affection. You are very sensitive to everything, especially what you are doing, and sometimes it may even seem overwhelming. You are attracted to beauty and good looks, which is why the physical attractiveness of your partner is very important to you. You love to indulge yourself and those you love, while being extravagant and, perhaps, attaching too much importance to material goods.
Comfort is very important for such Taurus , while they simply hate getting their hands dirty. At times, you can be lazy, expecting someone else to do all the dirty work for you. You need to develop self-control in addition to the qualities that you already possess – warmth and charm, empathy, artistry, and also try to resist possessiveness, jealousy and accept the natural course of your relationship. You strive to please in practical and down-to-earth ways.
Share with your friends. +5 to CARMA