The compatibility of the signs of Libra and Aquarius can rightfully be called ideal. These partners are connected by a deep kinship of souls and mutual attraction. They are attracted to each other both on a physical level and on a spiritual level. This fusion of the two signs of the air element gives them a common view of the world around them, which allows them to always understand and support each other. The romance of Libra and Aquarius usually develops rapidly: they fall in love, a violent passion arises and everything ends with a magnificent beautiful wedding.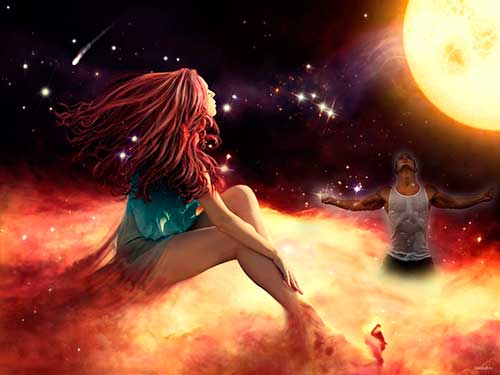 These partners are very romantic, they are interested in being together. Everyone is ready to decorate the life of a partner with their positive aura and surround them with tender care. Aquarius in the eyes of a partner is the embodiment of the most beautiful feelings. He inspires Libra, thanks to which they not only come to a state of balance, but literally begin to soar in the air, reaching previously inaccessible heights. Libra becomes the spiritual guide of Aquarius, enriching him with his sometimes restless inner world. At the same time, Libra is open and easy to communicate, trying to avoid conflicts. Such a partner is well suited for Aquarius.
Despite the spiritual closeness, there is one contradiction: the compatibility of Libra and Aquarius determines the need for sacrifice for the Libra sign. It consists in accepting the love of a partner for freedom, while Libra themselves strive for cohesion in relationships and creating a strong family. Nevertheless, although Aquarius cannot live without fresh air, having fallen in love, they will not resort to flirting and casual relationships. He is also impressed by the Libra's skillful conversation and their high intellectual level.
Libra charms a partner and does their best to attract his attention. Aquarius is secretive and does not always respond to the chosen one emotionally enough, which is why Libra suffers. They will have to spend a lot of energy to ensure that Aquarius finally shows that sensuality that they lack so much.
Libra and Aquarius sexual compatibility
The threads connecting these two are thin and transparent, but at the same time very strong. The sexual compatibility of the signs of Libra and Aquarius is based on the fact that both partners are supporters of innovation, they are interested in knowing life in all its manifestations. These airy people will never get bored with each other, since they are impressed by active social activities. Deep sensual relationships will become a brilliant foundation not only for an intimate relationship, but also for marriage.
Compatibility: Libra man – Aquarius woman
The Aquarius woman is very unpredictable. Sometimes she herself finds it difficult to understand the true reasons for her actions. This lady manages to be both feminine and masculine tough at the same time. The Libra man is constantly balancing, his mood can shift one way or the other. It's best to be around him when his bowls are balanced. Otherwise, it can be unbearable.
On the basis of such characteristics, the compatibility of Libra and Aquarius is formed, so they can admire the stars for a long time or have deep intellectual conversations, and then suddenly drop everything and disperse to different corners.
The Libra man and the Aquarius woman do not really know whether to live together or separately. Is it worth starting a family? Or is it better to leave immediately? With such doubts, these airy people will torment each other for a long time. But then they finally decide that it is impossible for them to live without each other.
The Libra man and the Aquarius woman really love each other, so the air lady will try for the sake of the chosen one to become less eccentric and give him calmness and tender sensuality. Her man will try his best to pay more attention to his beloved, at the same time not forgetting that sometimes you need to give her freedom. Such an alliance is interesting in its instability, but the relationship of partners never goes to the level of tough confrontation. Usually Aquarius can take offense, and Libra will put on a mask of cold detachment.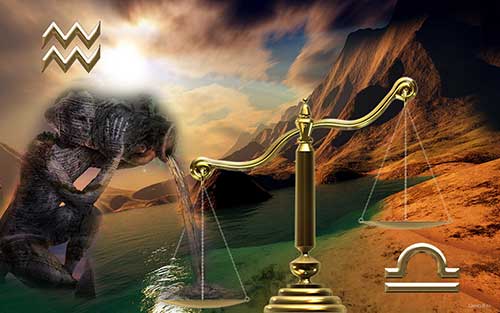 But the very next day they will again delight each other with pleasant surprises and charming smiles.
Compatibility: Libra woman – Aquarius man
In this pair, it is important to immediately make a decision about which of the partners will become the main one. Perhaps the Libra woman should still yield to the chosen one, although at the same time she will not lose her influence. Libra is ruled by Venus, and Aquarius is ruled by Uranus, so a man in this union will have more strength and aggressiveness, as it should be in a classic marriage.
A woman born under the signs of Libra is a true embodiment of femininity and beauty. Aquarius is fascinated by her external attractiveness and internal charm. In addition, she is an interesting conversationalist, which is a great gift for a living, intellectually developed Aquarius. Although there are some disadvantages that the Libra lady herself will not notice, her man will certainly point out them. Then she will be offended that her beloved called her a lazy and spoiled child.
For an airy woman, there is one way to catch Aquarius in her nets: give him enough freedom and show patience for his inconstancy. Then he will respond by showing deep affection. The union will be long-lasting and harmonious if only both partners show sufficient calmness and tolerance.
Aquarius and Libra business compatibility
The compatibility of the signs of Libra and Aquarius in business can bring them real success. They can interact harmoniously, complementing each other's skills. These airy people will become real friends. However, because of the love of freedom between them, tension can arise if their cooperation is delayed for a long time.
Share with your friends. +5 to CARMA