Solar Aquarians tend to be friendly, original, intuitive, free-thinking, different, independent, freedom-loving, have a penchant for science, while being unusual and helpful and have a broad outlook. They can also be impartial, unpredictable, tactless, rebellious, unconventional, stubborn, tough, radical, bohemian, and eccentric. Aquarians enjoy any job that requires ingenuity and detached application of certain rules and wording.
People under this sign are committed to sharing their knowledge with others in order to achieve a better life for all. Group activities are their usual mode of operation. Helping others so that they can help themselves is characteristic of Aquarius.
Aquarians are friendly, they have a warmth, but they seem very distant. By showing coldness or detachment, they are not really indifferent to those around them. It's just that they are much more concerned about humanity as a whole, and not some specific person. Since Aquarians generally don't have an ego inflated, they rarely bother to prove themselves in order to gain approval or praise.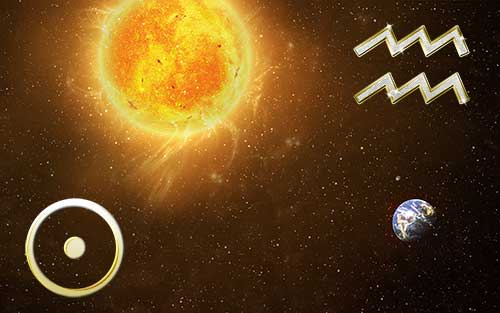 People under the sign of Aquarius are addicted to applying new ideas and methods in an old traditional environment. They are philosophers, visionaries and idealists. A sense of friendship drives them in an attempt to improve things as much as they can. Sometimes people whom Aquarians seek to help do not understand these attempts and react negatively towards them. Sometimes they are just ahead of their time, and sometimes they just freak out.
Owners of this sign have the determination and perseverance to leap forward, but sometimes their energy is relatively low, which leads to the abandonment of projects before they are completed. They have an analytical and scientific-oriented mindset, having the ability to think things over before drawing accurate conclusions. While they tend to have good concentration skills and are able to absorb large amounts of information, there are times when they are simply scattered.
Aquarians tend to get along with others, mostly not gossips or petty ones. They do not like to argue until they feel the need to defend a person, ideals or principles. Because Aquarians are so willing to listen to something new and different, they have little patience for those who refuse to hear about new concepts.
Sometimes such people resent just for fun. They are known to deliberately do things in an attempt to shock people. It is preferable for them not to be bound by schedules and rules, but they can also easily adapt to them if necessary. But don't expect them to always do everything on time.
Aquarians dislike people who are addicted to them, as they are usually not possessive. Giving others personal freedom, they expect the same in return. Since Aquarians are not particularly concerned with how other people think of them, they often do not bother making an opinion about other people's behavior.
In love, Aquarians want to see an intellectual partner next to them, with whom it will be pleasant to communicate. They may hesitate for a long time to make a responsible commitment, such as marriage, or any other form of partnership, due to their constant desire for independence. However, when Aquarius marries, the marriage is usually stable. Such individuals are loyal to their marriage partners, but they are not prone to excessive expression of feelings, especially in public.
Share with your friends. +5 to CARMA
Articles from category:
Aquarius – characteristic of the sign
Aquarius stones Sun in AquariusChildren's horoscope. Aquarius is a child. Aquarius and Pisces - sign compatibility Aquarius and Aquarius - sign compatibility...
Moon in the sign of Aquarius
The moon, finding itself in the airy and fixed sign of Aquarius, shows a number of new and unexpected qualities. Instead of being immersed in people's world, psychology...