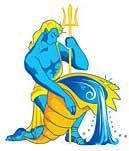 Sign period : (January 21 – February 19)
Planet : Saturn, Uranus
Element: Air
Sign property: stable, constant
The representative of the Aquarius sign can, like no one else, surprise his acquaintances with his extravagance and insane antics. This person is freedom-loving and curious, which does not allow him to stay in one place for a long time. The characteristic of Aquarius shows that he is compulsively friendly, but does not always have sufficient tact, which becomes a hindrance in communicating with others. Aquarius always strives for new adventures, without focusing on one thing. Of all the signs, Aquarius can be characterized as the most unpredictable.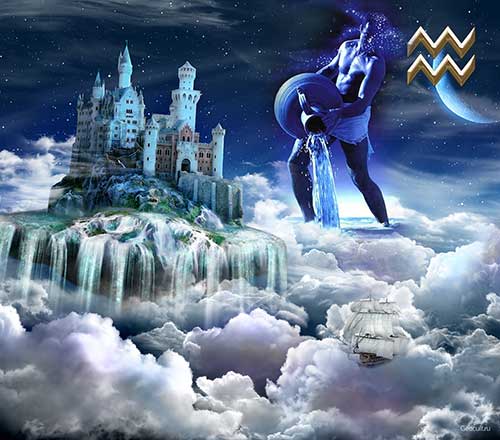 Aquarius man – characteristic
The characteristic of the Aquarius man speaks of their excessive concentration on their own person, as well as the fact that they prefer an easy, relaxed relationship. A man born under the sign of Aquarius is a great friend. In difficult times, he will always be there and help, no matter what it costs him. However, when it comes to a woman, he easily changes one partner after another, as soon as the stage of romantic courtship stops and interest cools down.
The Aquarius man is usually a creative person, open to all that is beautiful. This person is quite talented and can remain in the shadows only because of his inability to obey the harsh rules of the modern show business system.
Choosing a life partner, Aquarius will stop, having met a sensitive nature, who knows how to support her beloved in difficult moments of life, but meekly retreats when her man wants to be alone or just unwind. Perhaps not everyone wants to build relationships in this way, but Aquarius is also not a completely ordinary person.
The characteristic of the Aquarius man gives an idea that it is unusual for him to pay much attention to any material aspirations. He is indifferent to the financial side of life, therefore, they are quite calm about money and can leave their savings safe and sound for a long time.
In relationships with women, Aquarius does not feel jealousy or possessiveness, he believes that there should be mutual interest between lovers. Ladies should remember that Aquarius loves here and now, and should not count on constancy next to him. In general, the Aquarian man should be perceived as he is, since any attempts to change his rebellious nature will lead to the rapid flight of this airy man.
Aquarius woman – characteristic
A woman born under the sign of Aquarius is an absolute manifestation of shocking in its original form. Not every man will dare to accompany such a lady, because especially conservative ones will have to blush because of her extravagant actions. This lady is one of the few who likes to combine incongruous, both in dress and in behavior. Having met her at a social event, you can be surprised to find bright sneakers with rivets peeking out from under the train of an evening dress, and this is far from the limit of the capabilities of a real Aquarius.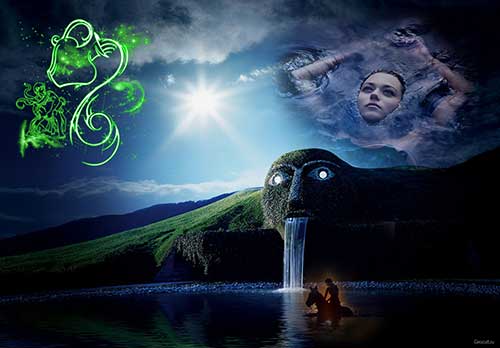 Be that as it may, the main value of an Aquarius woman is her freedom. This lady will not exchange freedom for any feelings, even if she is promised life-long stability and strong family ties. It is quite possible that this will even frighten her, since she is used to being her own mistress and is not ready to obey even the most beautiful man.
The characteristic of an Aquarius woman indicates that she is an amazingly interesting conversationalist, and hardly anyone can refuse her company, even if it is very short and fleeting.
The professional activity of a woman born under the sign of Aquarius cannot be associated with strict discipline. The creative field is a wonderful area for developing her talents.
In search of the ideal man, this lady will choose someone who will quite calmly react to her irrepressible need for constant movement, communication with friends, combined in a rejection of any kind of control from a partner. Simply put, she will go wherever she wants, at any time of the day. However, we are not talking about betrayal here, this trait of the Aquarius woman rather speaks to the obsessive desire for a constant development of events and the search for adventure. Her chosen one must treat this with understanding, otherwise the relationship will end before they have time to begin.
Aquarius sexual compatibility
In the years of youthful searches, the Aquarius sign is well compatible with partners such as Gemini and Libra . In such a relationship, light weightlessness and the absence of rigid obligations will necessarily be present. In this case, Gemini will become a source of intellectual stimulus, and Libra will bestow balance and harmony. After 30 years, Aquarius can find their happiness next to Virgo or Aries . During this period, the sign of Aquarius becomes more mundane, and he will be impressed by the innovations of Virgo. Aries, on the other hand, will become the embodiment of ambitions that require implementation.
Share with your friends. +5 to CARMA
Articles from category:
Moon in the sign of Aquarius
The moon, finding itself in the airy and fixed sign of Aquarius, shows a number of new and unexpected qualities. Instead of being immersed in people's world, psychology...
Sun in the sign of Aquarius
Solar Aquarians tend to be friendly, original, intuitive, free-thinking, different, independent, freedom-loving, have a penchant for science, while being unusual and...