The moon, finding itself in the airy and fixed sign of Aquarius, shows a number of new and unexpected qualities. Instead of being immersed in people's world, psychology and receptivity, openness, contact and sociability arise, instead of instability and changeability – loyalty and constancy in attachments and feelings. The wealth of the inner world becomes the property of others, and it is no coincidence that the Moon in Aquarius is always surrounded by numerous friends and like-minded people.
General characteristics
People with the Moon in Aquarius feel comfortable in the world around them. Friends willingly share good news with them and turn to them for a variety of reasons: for advice or asking for help. In the heart of lunar Aquarius there is a response for every person, and it is no coincidence that such people are always provided with friendly support and unexpected help from patrons.
Despite the fact that people with the Moon in Aquarius attracts others like a magnet, they still try to stay apart in the company and in every possible way emphasize their individuality. They will not behave in the usual way, wear boring clothes, or support an idea that everyone agrees with.  Lunar Aquarius always demonstrates its uniqueness. This bright personality is distinguished by non-standard thinking and behavior, unusual manners and habits.
The qualities and characteristics of the character of lunar Aquarius include the following:
Openness, sincerity in character and behavior;
Kindness, willingness to help, sincere friendliness and humanism towards others;
Sociability, the ability to gather around friends and like-minded people;
Good intuition, insight, ability to understand people and foresee the future;
Providence in everyday life, anticipation of important changes in life;
Originality in behavior and ingenuity in everyday life;
Independence in personal life, love of freedom in habits and attachments;
Mood swings, eccentricity;
Unpredictable behavior.
People with the Moon in Aquarius sometimes overload themselves with communication with numerous people and, as a result, may experience nervous tension and psycho-emotional problems. They need to be outdoors more often and take long walks. Morning and evening jogging will strengthen the cardiovascular system, strengthen immunity, increase the overall tone of the body and improve mood.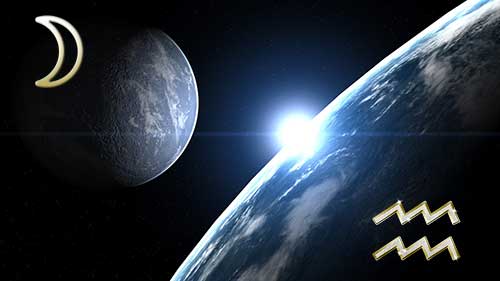 Moon in Aquarius for a man
If in the natal chart of a man the Moon is in Aquarius, then such a person does not see the difference between friendly relations with women and love. Over time, he realizes that the woman of his dreams should be both his friend and like-minded person at the same time.
In marriage, men with the Moon in Aquarius, as a rule, show fidelity and constancy. They feel happy next to an unusual, erudite, comprehensively developed, sociable woman who always inspires heroic deeds and positive changes in life.
Moon in Aquarius for a woman
The Moon in Aquarius in the horoscope of a woman's natal chart will describe her as a comprehensively developed, independent, friendly, caring and original personality in everything. She attracts the attention of the stronger sex not because she cooks well and strives to create a cozy and warm hearth, but with her mind, confidence in a happy future and faith in the positive qualities of people.
Such a mother knows for sure that she has the most unusual child in the world, and she tries to educate him as a successful and comprehensively developed personality, in every possible way contributing to the disclosure of all her talents and abilities.
Is it easy to find rapport with people who have the Moon in Aquarius? If you captivate them with a new idea, show the unusual sides of everyday life, tell about the obvious but incredible, then in these people of the lunar Aquarius you can find faithful friends with whom you can talk endlessly and spend time interestingly.
<< Moon in the signs of the zodiac (birth charts)
Share with your friends. +5 to CARMA
Articles from category:
Aquarius – characteristic of the sign
Aquarius stones Sun in AquariusChildren's horoscope. Aquarius is a child. Aquarius and Pisces - sign compatibility Aquarius and Aquarius - sign compatibility...
Sun in the sign of Aquarius
Solar Aquarians tend to be friendly, original, intuitive, free-thinking, different, independent, freedom-loving, have a penchant for science, while being unusual and...