Any person's life certainly has ups and downs. Various situations in our life constantly require us to grow and develop, physically and spiritually. In astrology, our life experiences can be seen through the planets in the birth chart .
When a planet hits the zodiac sign, it acquires "essential strength" or weakness.
The planet in the abode – shows the pure qualities available. Such people have a born talent, they do not make any efforts, everything is given to them with ease in the area for which the planet is responsible.
A planet in elevation indicates a certain specific talent, it manifests itself more narrowly than a planet in a monastery. This is a good guideline for choosing a profession, what you need to strive for.
Planet in exile – indicates a lack of some qualities in the area for which this planet is responsible. The likelihood of problems. This is the lowest energy on the planet.
A planet in decline – shows the lack of qualities in a narrower sphere for which the planet is responsible. Is the opposite of exaltation.
Table: the strength of the planet in the sign
Planet

House
(Abode)


Exaltation


Exile

A fall

Sun

Leo

Aries

Aquarius

Libra

Moon

Cancer

Taurus

Capricorn

Scorpio

Mercury

Gemini
Virgo

Aquarius

Pisces
Sagittarius

Leo

Venus

Libra
Taurus

Pisces

Aries
Scorpio

Virgo

Mars

Aries
Scorpio

Capricorn

Libra
Taurus

Cancer

Jupiter

Sagittarius
Pisces

Cancer

Gemini
Virgo

Capricorn

Saturn

Capricorn
Aquarius

Libra

Cancer
Leo

Aries

Uranium

Aquarius

Scorpio

Leo

Taurus

Neptune

Pisces

Cancer

Virgo

Capricorn

Pluto

Scorpio
Aries

Leo

Taurus
Libra

Aquarius
In addition to the sign in which the planet is located, the planet is also affected by the house in which it is located. Houses show a certain area of ​​life for which they are responsible, and according to their location in the houses, the planets will acquire a different quality. This quality of the planet is called accidental force and is translated as "accidental force." Accidental force of the planet is more important in realization than essential (according to the sign of the zodiac).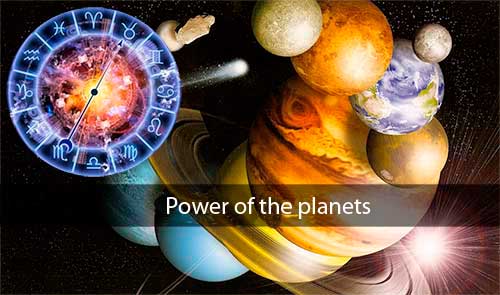 For example: Hillary Clinton had very strong support (essential power), but lost in the US election to Donald Trump, who had incidental power.
Assessment of the accidental force of planets in houses

When assessing accidental strength, the following scheme is followed: corner houses – maximum strength, subsequent houses – medium strength and falling houses – weak.
Corner houses (strong)
First(I), Fourth(IV), Seventh(VII) and Tenth(X) houses – are corner houses. They allow the planet to express itself as much as possible, even in spite of the essential qualities that are acquired in the sign. While in these houses, the planet will manifest itself naturally and noticeably, in the sphere and affairs for which the house is responsible. If people in the cosmogram have many planets located in corner houses, then their deeds will be noticeable, and their lives are full of rich events.
If a planet is strong in a sign (essential force) and is located in one of the corner houses, such a planet will maximally manifest itself with bright achievements in life, to which people will go through harmony and satisfaction.
If the planet is in fall or exile – it is essentially weak, but is in one of the corner houses – have incidental power, such people will achieve their achievements in any way, sweeping away their competitors in all available ways.
The corner houses are believed to be strong because their planets see the Ascendant . By strength they are distributed: I, IV, VII and X houses.
Subsequent houses (medium strength)
Second(II), Fifth(V), Eighth(VIII) and Eleventh(XI) houses – Subsequent houses. The planets located in them will not have such an effective effect as in corner houses, in order to be comparable to a person, it will take twice as much energy.
By strength are distributed:  II, V, VIII, XI houses.
Falling houses (weak)
Third(III), Sixth(VI), Ninth(IX) and Twelfth(XII) houses – Falling houses. They have the lowest score. If in the natal chart most of the planets are in falling houses, then such people will need to work very hard for their achievements to become noticeable to others.
According to traditional astrology, falling houses do not see the ascendant, and therefore people in this position have little control over these spheres, they are hidden from them. The planets in these houses work only 25% compared to the corner ones.
Distributed by strength:  III, VI, IX, XII houses.
There is also William Lilly's method of determining the strength of houses, in which the order is slightly different. For the sake of completeness, here it is.
The power of the planets in houses by Lilly:
Corner houses (strong): 1, 10, 7, 4 houses
Subsequent houses (medium strength): 11, 5, 9, 3 houses
Falling houses (weak): 2, 8, 6, 12 houses
Note that the 2nd and 8th houses are considered weak, so placed below in the planetary support hierarchy. This is beyond the scope of this article, but the experience of William Lilly's system confirms this.
There is another interesting system for determining the strength of the planets, which also determines the harmony and disharmony of the planet – this is the Astrodynian method . This method takes into account essential (in sign) and incidental (in house) power. as well as the aspecting of the planet. Read more in the article: Strength and Harmony (Astrodines) .
Share with your friends. +5 to CARMA