The Moon in the sign of Leo in the horoscope makes its owner bright, noticeable and attractive to others. In this astrological combination, there are two important life-forming principles: lunar and solar. All the wealth of the inner world, personified by the Moon, appears before the bright rays of the Sun, and all facets of the human soul are illuminated by its life-giving energy. That is why people with the Moon in Leo actively participate and successfully express themselves in social life.
General characteristics
Owners of the Moon in Leo in society and in public feel like a fish in water. As a rule, they have bright natural talents, undeniable authority and good personal qualities, which are always appreciated by the people around them.
Lunar Leos are quite popular and in demand in society. They know how to present themselves in a given situation and always make it clear to others that they deserve the best. Such people choose clothes carefully and always make sure that it is fashionable, stylish, high-status and emphasizes the dignity of their figure. Moon Leos are very finicky in food. They must have a choice of several dishes, and the food must be prepared with expensive and excellent quality products.
People who have the Moon in the sign of Leo in their natal chart are distinguished by the following features of character and behavior:
Artistry, the ability to show oneself in all its glory;
Striving for popularity, love for fame;
Self-confidence, credit of trust from others, striving for social success;
Nobility, generosity in everything;
Cordiality, openness, optimism and cheerfulness;
The need for sports and physical activity;
Love for entertainment, competitions;
Craving for pleasure, games, a bohemian lifestyle;
The need for creativity and self-expression.
Moon Lions need to take care of the cardiovascular system and the general energy level of the body. In their case, overstrain and excessive physical activity are unacceptable, this can negatively affect the work of the heart.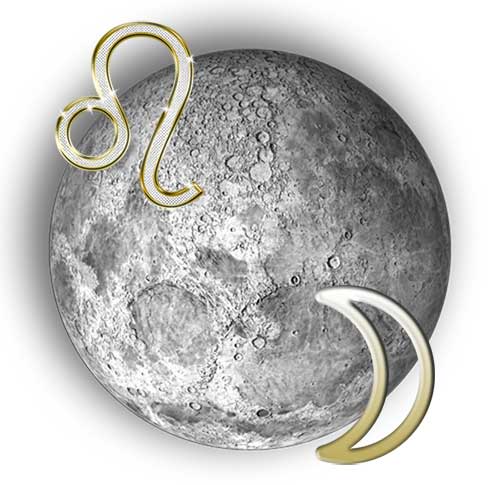 People with the Moon in Leo should also regularly monitor the state of their vision and, in case of the slightest problems, contact an ophthalmologist. They should not forget about daily exercises to improve their vision and neglect wearing glasses or lenses.
Moon in Leo for a man
A man, in whose horoscope the Moon is located in the sign of Leo, approaches the choice of a life partner seriously. The woman of his dreams should be special regal. In her behavior and facial features, an innate nobility should be read. Only with such a lady will a man with the Moon in Leo feel confident in any society.
Next to her, he will demonstrate his creative talents, the manners of a knight and a refined gentleman who knows how to exquisitely look after a lady of the heart, give her magnificent compliments and expensive surprises.
Moon in Leo for a woman
A woman with the Moon in the sign of Leo strives for a high standard of living. It doesn't matter where she lives – in an ordinary apartment or in a country house, in her palace there should be only the most exquisite things, a fashionable interior and everything she need for creativity and a pleasant pastime.
The Moon Lioness loves to arrange holidays in her house and invite guests. And, of course, her children are the subject of her pride, for the development of their talents she will never regret either time or money.
How to find a common language with the lunar Leos? The simplest thing that comes to mind is an expression of admiration for the appearance of such people. Moon Leos are very susceptible to flattery and take compliments in their address well. And if you surround them with the most exquisite and luxurious things, then they will feel very confident and comfortable. But the most important thing that is expected from those around them lunar Leos are manifestations of real, sincere love, which opens up new opportunities for creativity, joy and enjoyment of life.
<< Moon in the signs of the zodiac (birth charts)
Share with your friends. +5 to CARMA
Articles from category:
Leo – characteristic of the sign
Leo stones Sun in the sign of LeoChildren's horoscope. Leo is a child. Leo and Pisces - sign compatibility Aquarius and Leo - sign compatibility Leo and...