The planet Venus, which gives happiness in love, creativity and enjoyment of earthly joys, shows how fully a woman will reveal herself in relationships with her husband, girlfriends, mother and daughter, and knowing her location with a man, one can understand what type of beloved excites his imagination.
Venus in Aquarius endows with a love of freedom and attraction to the unusual, extravagant, mysterious. Horoscope holders fall in love with exceptional and brilliant personalities with a favorable aspect, and with ugly freaks with an affected "evil" planet, sincerely considering them special and unique. A whole generation of hippies was the bearer of Venus in Aquarius, which formed their basic principles – love against violence, freedom of feelings and self-expression.
Features of a psychological portrait
The enthusiastic love of life and inspired involvement in the great creative streams of the Universe makes people with Venus in Aquarius innovative artists in any business. Under the influence of Uranus, the generally accepted canons of behavior in relationships and affairs are swept aside, new, shocking forms are created that are ahead of their time with boldness.
A calmer position gives freedom and creativity, which the owners of Venus in Aquarius will not give up even for the sake of the most ardent passion or a profitable union. They enjoy money when cash is available, and rejoice at freedom from it when they are broke. Strange and eccentric personalities are not easy to understand, but easy to communicate. It is necessary to take into account their  psychological characteristics:
emotional coldness and high ideals form an understanding of love as friendship and partnership without limiting each other's rights of self-expression;
benevolent, sophisticated, intellectually developed, thanks to an open "connection" to the information field of the Universe;
are inspired by erudition, originality and wit, and not classical beauty and sex appeal;
aesthetes, endowed with a keen sense of harmony, instantly see the beauty of the structure of music, architecture, mathematical and chemical formulas, being able to build a system of small private details;
romantic and sublime, looking for unusual high relationships, which leads to utopianism and celibacy, or choosing a partner with a rare profession, extraordinary appearance, foreign citizenship;
practice an open relationship or a guest marriage without a common life, but unlike Venus in Gemini they do not have several novels, but remain faithful;
success comes through social work, patronage and sympathy of high-ranking women;
mystical worldview, interest in astrology, magic, energy healing, no less than in science.
Despite the outward softness and benevolence, the owners of  Venus in Aquarius cannot be forced to do what is unpleasant for them. Children with such a position of the planet make friends easily and study well while they are interested. They can absorb serious literature on history, archeology, and space exploration, but get bad marks in boring subjects. It is necessary to develop a sense of responsibility and practicality in them.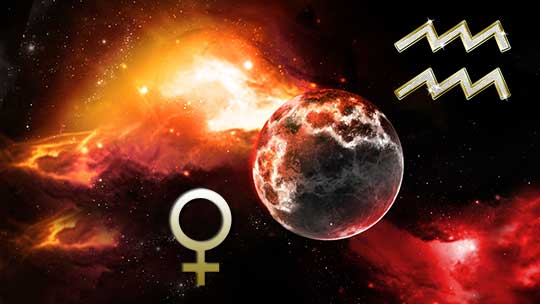 Venus male and female
Winning the heart of the bearer of Venus in Aquarius is completely impossible. She is like a cat walking along one of her well-known paths, and returning to someone who knows how to surprise and excite the imagination with eccentric antics. At the same time, she idealizes his uniqueness and expects a special, sublime attitude with a bohemian lifestyle, which is a priori unlikely and leads to disappointment.
Having the Sun in Capricorn or Virgo, the owner of Venus in Aquarius thinks that she wants to get married, but over time she becomes irritated by the restrictions of freedom associated with this, which creates conflicts and quarrels in the family. She needs her own circle of interests, personal income that allows her to feel independence, and constant communication with interesting people. A creative, bright and liberal-minded partner with Mars in Aquarius, Gemini, Sagittarius will help to ensure this.
The dream of a man with Venus in Aquarius is an extravagant, bright, unlike anyone else woman, free from prejudices, intelligent and mysterious. A girl with an unusual, even strange, appearance, style of clothing, field of activity will instantly attract his attention. It could be Venus in Aquarius, Scorpio, Aries.
He is like the wind slipping through his fingers when trying to grab: he cannot stand frequent calls to control, jealousy, excessive emotional attachment and demands with confirmation of feelings. Equality and respect in a relationship similar to friendship, but with an active sex life, the right to secrets, fantasies and personal space – his perception of love and marriage.
Important aspects with other planets
The first ruler of Aquarius is Uranus. The favorable aspect of Venus with it gives a bright charisma and magnetism, the ability to stand out from the crowd, amaze others with ingenious inventions, come up with a new style of fashion, music, poetry, shine in theater and cinema, create unique works of art and make scientific discoveries.
The relationship will be with an extraordinary, famous partner, especially if there is a connection with the Sun, and with tense configurations, a strange one with a negative connotation (crazy or disabled) will be attracted. The favorable aspect of Venus with the second ruler Saturn grounds the eccentricity of Aquarius, making it calmer and more balanced, but brings melancholy, isolation, disappointment in people. Harmonious aspects with the Moon, Neptune and Chiron contribute to happiness in love and creativity.
Additional description
People born with Venus under the sign of Aquarius in the natal chart express their affection in an open, unconventional and only way peculiar to them. It is very typical for them to participate in social activities that bring people together. As a rule, they have a large number of friends and acquaintances. Since they value friendship extremely highly, they are more comfortable being a friend than a lover. One thing is for sure – they have a strong dislike for possessive and clinging relationships. They want to be free and do whatever they want and with whom they want.
Aquarians born with Venus desire an intellectual or spiritual connection with a partner, and for them this is even preferable to a strong intimate or emotional attachment. Such individuals need  partners who give them the freedom to be themselves and not be too emotionally demanding.
Such people are charming, funny and original, but at the same time they are cold-blooded, calm and detached. This detachment is good for them, as they generally never seek to get over people or things. They have a tendency to filter their feelings through the mind, making them intelligent. They need to learn warmth and understanding.
Share with your friends. +5 to CARMA