It is believed that the most favorable month for people born under the auspices of this year's mistress, the Monkey, is July. It is in this month that the most profitable deals are likely and important fateful events may occur. The symbol of 2016 is the Red or Fire Monkey. Therefore, this year will sweep under the element of Fire. And the most successful color for celebrating the New Year will be red. Interior details, Christmas tree decorations, New Year's dishes, festive clothes and accessories must contain all shades of red.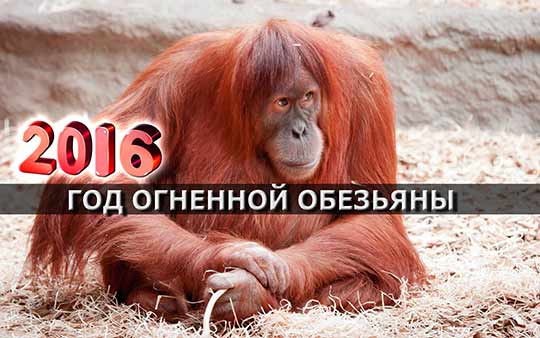 For those who were born under the auspices of the Monkey, this year will be the luckiest, perhaps even in a lifetime. Monkeys may become more influential, wealthy and famous in 2016. First of all, this applies to those who are already in adulthood. For young Monkeys, this year promises success and great achievements, especially those who are engaged in creativity and creativity. Wherever you can show off your mind and show your abilities and talents, you will undoubtedly receive universal recognition.
Purposeful and responsible Monkeys may receive a long-awaited promotion. The main thing in the New Year 2016 is not to make bad deeds and serious mistakes. Therefore, you need to be extremely careful. You should limit yourself from adventures and other dubious ventures. Otherwise, luck may turn away from you. The main thing for people born under the auspices of the Monkey is to catch success and try with all their might to keep it, since the hostess of this year is very cunning, insidious and emotional. Any wrong act can ruin everything and bring only troubles and failures.
What can I say about the representatives of this sign themselves, it is that they are really very similar to the Monkey . These people are very smart, cunning and unpredictable, they often go from one extreme to another. They can easily solve very complex problems, do many things at the same moment, are very sociable and always go to their goal. They have a very peculiar, sometimes strange behavior, but despite this they are very popular with people of the opposite sex, since many consider them very charming.
On a personal level, this year everyone will have a rich and colorful life, which will affect not only the representatives of this sign, but also all other signs . Do not forget that Monkeys are very greedy for flattery, they love gifts and compliments. Despite the fact that it is very easy for the Monkey to offend, she quickly forgets about all the insults and continues to communicate with you as if nothing had happened. Strong friendship and a strong family are very important for her. It is they who in the New 2016 will become your support and reliable defenders. Health in 2016 should be monitored continuously. At work, success awaits and new additional sources of income will appear. The main thing is not to be lazy.
Share with your friends. +5 to CARMA