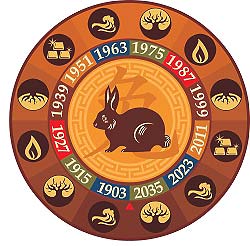 The rabbit (Hare) belongs to the Yin group. This is the fourth sign in the Chinese horoscope and it runs from 5 to 7 am. The Rabbit's season is spring, it brings him good luck in everything, and the best month is March. Its element is Wood. On the European zodiac, it corresponds to the sign of Pisces. The color that brings good luck and happiness is white. Favorable Plants for the Rabbit (Hare) – fig tree and meadowsweet. The best countries to live in are Belgium, Switzerland, Wales, Holland, Singapore, Canada.
Years of the Rabbit (Hare, Cat) in our century
1903 January 29 – element of the year water
1915 February 14 – element of the year tree
1927 February 2 – the element of the year fire
1939 February 19 – element of the year earth
1951 February 6 – element of the year metal
1963 January 25 – element of the year water
1975 February 11 – element of the year tree
1987 January 29 – element of the year fire
1999 February 16 – element of the year earth
2011 February 3 – element of the year metal
FAMOUS PEOPLE BORN IN THE YEAR OF THE RABBIT (HARE)
Fidel Castro, Walt Whitman, Frank Sinatra, Ingrid Bergman, Harry Belafonte, Confucius, Whitney Houston, Cary Grant, Rogers Mayer, Garry Kasparov, Arturo Toscanini, Joseph Stalin, Queen Victoria, Martin Luther, Catherine Antoine de Medici, Anna Boletta, Maria Albert Einstein, Giuseppe Garibaldi, Georges Simenon, Henri Stendhal, Henry James, Marie Curie, Jean Martin, Nicolas Fouquet, Fernand Fernandel, Louis XI, Edvard Grieg, Jacques Offenbach, Queen Maria, Sergei Prokofiev, Edith Piaf, Raifa, Saint-Simon Santi, Walter Scott, Johann Friedrich, Matthew Blanter, Leon Trotsky, Monaco, Prince Albert, Georgy Tovstonogov, Mario Del, Mikhail Kupriyanov, Evgeny Dolmatovsky, Arthur Miller, Mikhail Matusovsky, Evgeny Mravinsky, Georgy Milyutin, Julius' Raizman, Irvine Ugarbe Pinochet, Mstislav Rostropovich, Svyatoslav Richter, Mikhail Svetlov,Eldar Ryazanov, Georgy Viridov.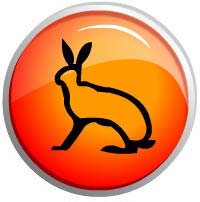 Rabbit (Hare) – belongs to the animals of the Yin group, it symbolizes the West, the beginning of autumn and the full moon. Rabbits are of two types – white and gray. But there is also a domestic rabbit, whose coloring is very diverse. In the eastern countries, the Rabbit is called the Hare or the Cat. These universal favorites, with golden or green eyes, were called sorcerers, and they were even elevated to the rank of gods, heavily adorned with Jewels. So About Cats Steinberg wrote: "God created the Cat in his own image and likeness, and later, created man with only one purpose, so that he served the Cat, and was his slave at the end of his centuries. God gave a cat a sobriety of mind and indifference, and a man – skill, labor enthusiasm and infidelity. Man created his civilization only based on his inventions, on intensive consumption and production,
The rabbit, this gentle fat man, at first glance seems to be an incomprehensible and mysterious creature. The rabbit does not cause dislike and superstition in anyone, and does not generate superstitious fear, as the Cat does. Black cats have always been accompanied by witches and were a symbol of black magic. In front of the cat, the Rabbit (Hare) looks helpless and funny. He never shows aggression and always flees. He is a small and affectionate god, he does not like night walks, he cannot be tamed or locked in a small world, but on the contrary, it is easy to get into the world of fairy tales with him. This is one of the animals that cannot be trained. Have you ever seen a trained Rabbit (Hare) in a circus?
Rabbit is an animal with soft pleasant paws, a mixture of unknown and wonderful reality, cute and captivating. Less has been written about Rabbits than about Cats, but they were not burned with witches at the stake. It symbolizes a calm, wise companion, as opposed to evil spirits. Rabbits are adorable and never hate. People's indifference does not affect their destinies in any way. In Chinese astrology, this is one of the most difficult zodiac signs to describe, because it has many different subtle shades. Because of this, it is very difficult to express concrete and simple words about the Rabbit.
The rabbit (Hare) loves different trips, but so that without any risk, he will never go on a hike without a first-aid kit. It can often be found on uncrowded paths.
RABBIT (HARE) AND HIS LIFE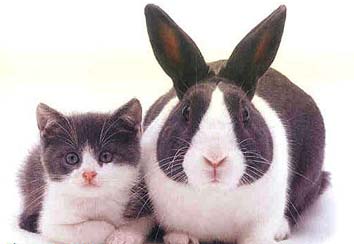 A rabbit (Hare) is very happy if it is born on a summer day. In the summer Rabbit, fate goes more calmly and he experiences much less frustration and cold. The Rabbit's childhood and adolescence passes without any outbursts, and maturity is filled with knowledge of the external world. In the course of the entire life path, the nature of the Rabbit (Hare) strives all the time to find peace. But this does not always work, because the Rabbit in maturity is replete with dramatic events, insurmountable obstacles and exceptional situations. The rabbit is not created for rivalry and struggle, he is very afraid of instability, but no matter how he tries to avoid change, they pursue him to a ripe old age. If a person born under the sign of the Rabbit does not rid himself of this complex, then by about thirty years old he can easily go crazy or leave his life principles,
In old age, the Rabbit must be careful: he can spend his old years in sadness and loneliness, if at the fateful moment of his life he will not be able to make the right choice. The Rabbit can also have a quiet life, if cataclysms, revolutions and wars do not suddenly occur. Its fate often depends on external factors, on the environment and era.
THE CHARACTER OF THE RABBIT (HARE)
The duality of the characteristics of the Rabbit lies in the alternation of dual dependence and savagery. You need to know the Rabbit very well to see how he bypasses all the traps of the enemy, his behavior is often unpredictable, when a bold act is expected of him, he dodges, when he is sure that the Rabbit will run away – he will take it and stop. The rabbit is a very sensitive creature, well susceptible to the climate, he trusts his intuition and feels good when they hang noodles on his ears. It's hard to speak with the Rabbit in the language of logic, even if he works with numbers, his reaction will still lie in the subjective area. It may seem that the Rabbit is easy to adapt and tame, but in fact, he hides his displeasure in the depths of his consciousness and one day, under certain circumstances, all his emotions will spill out. People born under the sign of the Rabbit are moderate and reserved. They always show diplomacy and subtlety to avoid conflict situations and quarrels. They are sensitive to harmony and very demanding to maintain a caring environment and a peaceful climate.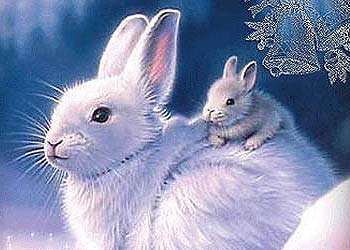 Rabbits are endowed with natural chastity, a sense of strict morality, they are always thoughtful and prudent. They are very fond of safety, tranquility and comfort. They have been working all their lives to strengthen their structures.
Rabbits are considered the happiest people, they are created for well-being and harmony. It is very pleasant to spend time with them. Rabbits are very ambitious, restrained, sophisticated. Everyone wants to be in the company of Rabbits, because they are pleasant and kind companions, and always share with their surroundings.
Their world is their immediate environment, and only by bypassing their territorial possessions, and fully convinced of their safety, can they risk moving on. Rabbits are prudent and careful and always on the lookout. This is a wait-and-see position, it is caused by internal fears, which often upset their life balance. The rabbit is not at all belligerent and not aggressive zodiac sign. Its representatives will never rush into difficulties for their own pleasure, if they can be circumvented. In a difficult environment and situation, Rabbits feel trapped in the grip of circumstances. They are dangerous in rare situations, only when they have been cornered. In all other situations, they try to avoid unnecessary discussions and flee. It is difficult to provoke the Rabbit, because he is sober and calm – a pacifist. The rabbit is more sensitive and not particularly sentimental, but his own problems worry him more than world cataclysms. Hunger, catastrophes, wars, he is completely indifferent, if they do not concern him personally. But if little things touch him, he immediately finds it unbearable. They are quickly comforted and cry easily. Melancholy and grief are the main weapons of the Rabbit. Their weak point is timidity, cowardice, indecision. They will not act if they do not know what awaits them. Rabbits are not made for critical situations, so they can easily miss an interesting chance. When worried about the future, they often stand still. In Rabbits, peace of mind is of paramount and main importance, and help to others is provided only if their daily routine is not disturbed. They can come up with a thousand different excuses to confirm their refusal, but in fact, this is self-deception.
Rabbits are very easy to live with, they have a calm and peaceful nature. They rarely get irritated, quickly agree, always remain cool and calm. They are warm, hospitable and the most loyal people, they are very attentive and delicate to their friends. They are patient and understanding. Rabbits cannot stand vulgarity, so it is easy to offend them. People under the sign of the Rabbit are very big conservatives, they live by the principles of honor. They are a little distrustful and silent.
Rabbits love to shine in a public environment and are highly respected in a narrow circle of their friends. They can be overly cautious, and even a little shy, will not take any action until everyone has calculated all the pros and cons. For many people, these Rabbits' talents are very valuable, and many consult with them. In many questions, they are explained naturally and easily. Rabbits are well-versed in everyday life and do not adapt well to some unexpected situations. If the Rabbit does not know the outcome of the event, then he is very nervous, because their happiness often depends on many circumstances.
People under the sign of the Rabbit quickly lose their positive qualities; under negative and bad circumstances, they often become superficial people.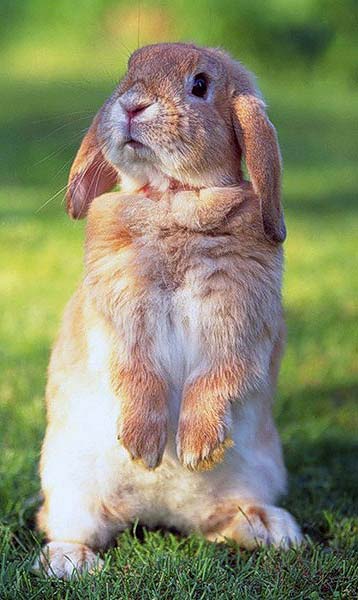 Rabbits love their close company, and the company also loves them. They often have people from different social backgrounds in their friends, and they are good at recognizing them. Rabbits are often schemers, gossips, but they get out of the situation tactfully and carefully. In life, they never try to talk about unpleasant things. Rabbits are secular people, they love to show their culture and intelligence, especially if it was quickly, hastily acquired. They delve deeply into most topics, but only in order to surprise with their knowledge of society, and often do not notice important life events.
Rabbit is a good businessman, so financially everything is going well for him. Those who make a deal with him will not regret it in the least. The Rabbit is lucky in the trade, it can also be successful in the sale of antiques, the Rabbits have a good taste for it. They are also good diplomats and therefore can show themselves excellently in jurisprudence, all these properties allow them to live in prosperity.
Women of the Rabbit sign love glitter, they have good taste, they are talented in their profession and are demanding. For Politicians, the Rabbit is an ideal partner, Rabbit women are excellent housewives, disciplined, cultured and know how to enhance the brilliance of a partner.
The rabbit is responsive and affectionate, gives love and attention to loved ones, but despite all this, he is badly created for a large family, he often looks at children and his loved ones as at strangers, and gives more preference to friends. But Rabbits women scrupulously fulfill their family duty, they are very attached to maternal feelings.
Share with your friends. +5 to CARMA