Sun conjunct Jupiter
You are overly optimistic, self-confident, and cheerful. Your benevolence, kind character and friendliness make you popular in almost any company. You always have grandiose plans and ideas for everything, while you sincerely believe that you are the one who can lead any undertaking. The desire to succeed in life at something more overwhelms you all the time. You expect the best and usually you get it both through the thoughtful actions of others, and as a result of your hard work.
This aspect brings a lot of luck, financial rewards, enthusiasm and personal pride. The only real danger here is that you might tend to be somewhat condescending, wasteful, and extravagant. There is also the danger of excessive pride and a rather bloated ego, albeit to a small extent. You are most likely a bit of a spender who doesn't push yourself to stick to a budget. There is a desire to know your true inner self and understand the real purpose of your life. You love to travel and chances are you will have opportunities to do so, also through your career.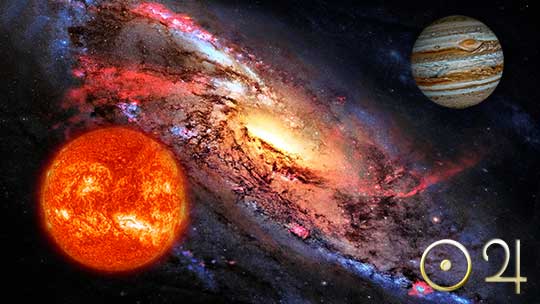 This is the aspect of the guardian angel. No matter how close you are to a dangerous situation or a risky venture, you will still be protected from it, even if it happens at the last moment. Higher powers are watching you and protecting you from possible harm. Your kindness and generosity in past lives have brought this reward today and now with all the benefits that come with it. Use them wisely.
Harmonious aspects of the Sun with Jupiter
Your optimism and cheerfulness outperform many of your friends in helping you succeed in life. Strong self-confidence can attract benefits and benefits in amazing ways. You want to expand your consciousness through some kind of philosophy. This aspect protects you from danger and harm, even if it happens at the last moment. You are full of enthusiasm and good mood, good luck and desire to interact with other people. This aspect provides a certain amount of material wealth.
You have a lot of aspiration, but there is no struggle or hard work to achieve them. You are generous, generous, reliable, sincere, honest, and idealistic, with a strong sense of justice, integrity, ethics and morality. Taking any revengeful actions towards others, you consider below your dignity and will never jeopardize your reputation by dropping to this level. You are working to control your ego through religion or other philosophies. This aspect brings you a lot of happiness in this life, as you deserved it in past lives by being so kind and considerate to others.
Tense aspects of the Sun with Jupiter
You tend to be optimistic and confident, but in moderation. You are self-indulgent and overly extravagant. There is a selfish vein within you that sometimes keeps you from helping others. There can also be religious fanaticism with a narrow adherence to one particular dogma. At times, you are not fair in judging others and sometimes you promise more than you can deliver. You tend to both embellish your stories and exaggerate your abilities. It is difficult for you to gather all the necessary determination and go to the end of the project you started. You have a strong desire and desire to succeed in life at something great, but you may not have enough initiative or persistence to make it a reality. But despite all this, you never seem to lose faith in the future.
You may become restless and unhappy with your responsibilities or limitations in life. At some point, your faith will be tested to see how strong it is in you. You may encounter legal problems through or through government officials. You have to ask yourself, when does self-confidence develop into selfishness? You want to feel important, which can lead you to selfish behavior.
You like to flaunt yourself and behave in a rather important way. You are capable of tasteless extravagance. You are wasting the energy and resources entrusted to you. All your actions should be very carefully thought out so as not to face serious losses in connection with speculation, loans, investments, gambling, etc. Social prestige is important to you. You may be exposed to problems with blood circulation, especially arterial. The "good life" can add extra pounds to you and it can also contribute to health problems. You need to stay active and keep exercising.
Share with your friends. +5 to CARMA