Venus and Jupiter are beneficent planets, and their combination brings happiness, good luck and success in society to the owner of the natal chart .
Both celestial bodies are responsible for creative self-realization. Venus helps to see the beauty around him and inspires the native to create things and objects that delight the eye. Jupiter gives a person a good imagination, makes his talents multifaceted and in demand in society.
Since Jupiter and Venus are commonly referred to as financial planets, any aspect of them contributes to human well-being.
The influence of the aspect on personality, behavior and attitudes of a person
A person with this compound loves life and knows how to enjoy it. An atmosphere of positiveness and well-being is felt next to him. The native tries to make his life and the life of those around him rich, varied and full of simple earthly joys.
Such a person cares not only about his material well-being, but also about spiritual development. He is generous and merciful. If the native earns good money, then he does not forget to provide all possible financial assistance to others.
In the life of such people, cognition of the world occupies an important place. Often they receive more than one education during their life, while they never stop there. Constant self-development, the search for truth and the creation of one's own philosophy of a beautiful life – in this the owner of the aspect sees his mission and purpose of life.
And yet such a conjunction of the planets has a negative side. The owner of the aspect hopes too much for luck and quick success. However, you should not overestimate your abilities and rely entirely on fate. Powerful energy and creativity should be directed to achieving specific goals, and not to empty philosophizing and entertainment. The native needs to avoid extravagance, excessive craving for luxury and glamorous life.
The conjunction of Venus and Jupiter in the natal chart of a man
The owner of the conjunction of Venus and Jupiter in a relationship is gentle, sensitive and generous. Such a man understands that to love and be loved is a great happiness, therefore he devotes a lot of time to the sphere of his personal life.
The woman of his dreams is kind, caring, charming, cheerful and optimistic. As a rule, the owner of the natal chart prefers cultured, educated and constantly expanding horizons of the fair sex.
In a relationship, he needs to avoid excessive idealization of a partner. In addition, a situation should not be allowed when the search for a perfect woman in all respects drags on for many years.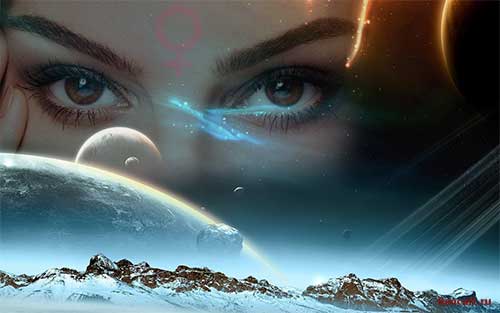 The conjunction of Venus and Jupiter in the natal chart of a woman
A woman with this aspect is full of inner dignity, visionary, energetic and enterprising. She is liked by others due to her beautiful external appearance, inner nobility and kindness of soul.
The owner of the aspect loves everything progressive and promising, and strives to marry a successful and successful man. In her opinion, marriage should empower both partners, contribute to their joint prosperity and advancement in society.
Such a lady herself is able to achieve material success, since she is sufficiently educated and does not like to depend on others. A woman with this aspect is generous and hospitable, loves family holidays, cultural entertainment and joint outings.
The conjunction of Venus and Jupiter in the child's natal chart
If there is this connection in the child's natal chart, then special attention should be paid to his creative development and upbringing. Such children will enjoy participating in kindergarten and school performances, attending concerts, theaters and cinema.
It will be good if parents can give their child the opportunity to study additionally at an art school. Painting, poetry, stage activities, photography are just a short list of what may interest a child with this aspect. Studying foreign cultures, live communication with native speakers and visiting foreign countries can make an indelible impression on him.
Celebrities with the Venus Conjunction Jupiter:
Share with your friends. +5 to CARMA