Sun conjunct Mars
You are full of vitality, energy and vitality. You have an unbending will that will never allow you to throw something or let someone down. You are assertive, active, courageous and full of passion. A strong physical drive, expressing yourself through passion, sexuality or through creative endeavors, is inherent in you as well as a fighting spirit and a constant desire to compete. Your attractive personality is a magnet for people.
There is a danger of burnout trying to do too much. Take some time to rest on your hard journey, and you will find yourself accomplishing much more with occasional breaks. You are driven by the desire to create, whether it's something related to your business or personal life. You have a winning spirit and will to win, whatever the chances are.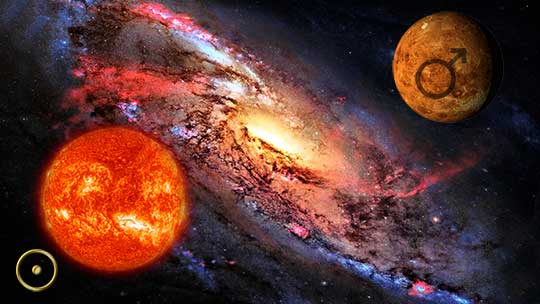 You have impulsiveness, energy, speed and intensity. But all this needs control, discipline and the right direction in a constructive direction. This is what you must learn using your willpower. You are prone to arguments and confrontations. Exercise is very important to you – this way you get rid of the stress that can be a consequence of all these energies. This aspect of the Sun with Mars favors activity where strength and muscle activity can be used. Along with all this, you have a tendency to be selfish and only think about your own needs. Your interests are more important to you than anyone else's. Try to be more considerate of other people's needs rather than your own. With these powerful energies, you may have difficulty at work, namely being humble and humble. Don't let your rage get out of hand. Remember also that "pride also does not lead to good."
Harmonious aspects of the Sun with Mars
You are brave, cocky, confident, active, resilient, energetic and positive. You love friendly competition and you are proactive, with dignity and self-confidence, which makes you a winner in all your endeavors. You have learned to control your desires using willpower, which also gives additional strength – after all, who can control himself can control the world. You have excellent physical tone and excellent regenerative strength. You should be involved in some kind of exercise program or sport in order to channel your excess energy in a healthy way. You have a developed sense of fair play and will not resort to vile ways to get ahead of anyone. You have leadership and executive skills. You are a tireless worker commanding respect from the people around him. You are self-confident with innate courage and you will always fight for your rights, as well as the rights of others.
Tense aspects of the Sun with Mars
You are more concerned with your own self-preservation than with the needs or interests of others. Your fighting spirit is the reason for the competition with those around you. You need to learn to cooperate and compromise. You like petty quarrels and squabbles, as well as go on an equal footing with everyone in any matter, no matter how trivial. Your desires get the better of you due to the lack of sufficient self-control. At times you are selfish, but you often feel like you have to fight to get what you want, and your "I am first" attitude makes others angry and annoying. You always need to be right, even when you are not. You find it difficult to forgive others and admit your mistakes. That strong energy and vitality that you have, you should not waste on unproductive endeavors and sensual pleasures.
You need to think before you act. You hate restraint in any form, resisting taking any direction. Because of this feature, problems with your boss are possible, which can directly affect your career. You have a fiery disposition and a predisposition to accidents and fevers. You have to be very careful with overstraining as you tend to work until you just burn out. You get frustrated and angry easily if you don't get what you want. Your impulsive actions can lead you to a variety of troubles, including, possibly, becoming a gambler. You get upset easily, which triggers the impatience and anger that you tend to pour out on those closest to you.
If you learn how to properly manage this drive and energy, then there simply will be no limit to your achievements and successes. But it will take self-discipline, self-control, restraint, patience, perseverance, and willpower. You must understand that your personal desires may not coincide with your spiritual desires, and this is what causes your inner stress. Look for your higher self and then you can turn all your negative into positive. Obstacles to achieving your personal desires are necessary to help you stay in tune with your spiritual desires. You have the necessary confidence and courage that the aspect brings into your life – they will go a long way in helping you deal with all the obstacles in the way.
Share with your friends. +5 to CARMA