Moon in the sign of Taurus is one of the most harmonious astrological combinations. The moon, representing the water principle, feels comfortable in an earth sign, and thanks to this, its qualities manifest freely and fully.
General characteristics
The moon, once in the sign of Taurus, acquires a craving for constancy, measuredness, coziness, stability and comfort in life. It becomes very practical and economic, it is important to get a specific result from activities. People with such a Moon are ready to work tirelessly in order to feel confidence and firm support under their feet. For a feeling of comfort and fullness of life, they need to have housing, a strong family and good material prosperity.
Lunar Taurus recover their strength well in the country. Interaction with nature and the elements of the earth gives them strength and energy, gives them confidence and adjusts to a calm, measured rhythm of life, ensuring the systematic and gradual achievement of earthly goals.
People who have the Moon in the sign of Taurus in their natal chart are distinguished by the following features of character and behavior:
Gentle and caring character;
Peacefulness, calmness and tolerance towards others;
Striving for harmony and love for creativity;
Practicality, hard work, excellent business acumen;
Love and affection for home, family, parents and children;
Ability to create a comfortable and safe environment;
Striving for well-being and stability in life.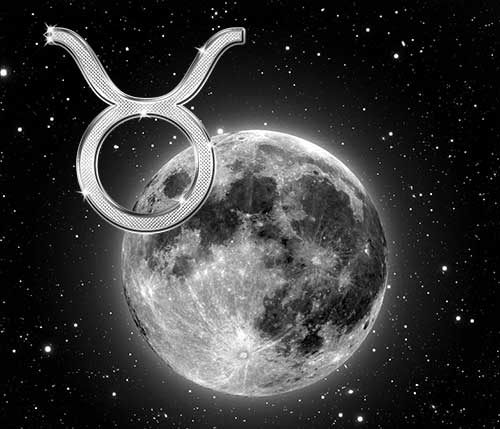 Since the Moon in Taurus is very thrifty, the body of its owner is inclined not only to process food, but also to accumulate nutrients. Therefore, people with the Moon in Taurus are often overweight. Controlling their weight, following a diet, and getting enough exercise will help improve the health and well-being of these people.
They should also be careful about the throat and neck, as these areas are anatomical projections of the Taurus sign. Lunar Taurus are advised to keep the throat warm and not overwork the vocal cords.
Moon in Taurus for a man
Men, whose Moon in the natal chart is located in Taurus, are very constant in their feelings and always strive to create a lasting and stable union with their beloved woman. They do not like changes in their personal lives, and, despite their lovingness, they strive to ensure that they have one single marriage for life.
Men with the Moon in Taurus are attracted by women who are kind, beautiful, talented, who know how to cook well and create comfort and a harmonious atmosphere in the house. Such men, as a rule, take care of the wealth in their family, are caring husbands and good fathers to their children.
Moon in Taurus woman
The moon in the sign of Taurus characterizes a woman as a good hostess, a caring mother, a keeper of family values ​​and a home. She has numerous talents that she can use in everyday life and family life. It can be culinary skills, the ability to create beautiful and practical things with your own hands.
She can also realize her creativity in various hobbies or apply her abilities in a career. The owner of the Moon in Taurus can sing, draw, get carried away with poetry. She enjoys engaging in any kind of creative activity, and she willingly introduces her children to the world of beauty.
The house of this hostess is always a full bowl. She gladly welcomes guests and treats them with her specialties. The Moon in Taurus is very practical, and there are always a lot of supplies in its pantries.
How to find a common language with people with the Moon in Taurus? The main thing is not to rush such people, to give them a sense of stability and confidence in the future, and also to give them the opportunity to develop their many talents and abilities.
<< Moon in the signs of the zodiac (birth charts)
Share with your friends. +5 to CARMA