Jupiter portends happiness, wealth and good luck, being in a harmonious position in a friendly zodiac sign. The giant planet is constrained by the tough and demanding Capricorn. Difficulties with the embodiment of ideas, the manifestation of leadership ambitions, receiving money for a carefully performed work, the native begins to experience from a young age.
Astrologers believe that Jupiter in Capricorn appears in the charts of people who have accumulated negative karma in the past. In the current incarnation, they will have to atone for guilt with honest labor and, like fire, avoid dubious business projects, communication with liars and hypocrites, as well as immoral relationships. Indulging in weakness will lead to the collapse of hopes in various areas of life, which at first glance are not connected with each other. Difficulty with children, loss of money – the price of frivolity. This can be avoided by studying the details of the planet's influence.
Influence of Jupiter in Capricorn on fate
The native must develop willpower and endurance in order to manage the powerful conflict of interests of Jupiter, who personifies a common law that is the same for everyone, and Capricorn is a symbol of personal determination despite prohibitions. The most difficult thing is for people with the Sun or an Ascendant in earth signs.
Law and social relationships are seen as a means of achieving grandiose designs, not natural constraints to vanity. Destroy, subjugate, rule, expand the boundaries of power and wealth – the principles of Jupiter in Capricorn, not limited to moral and spiritual aspects. A striking example is Genghis Khan.
The second extreme is to sacrifice life for the sake of an abstract idea for the good of society. The best option is to go towards the goal, using the personal energy, knowledge of laws and useful contacts wisely. Perople with such Jupiter can withstand the overwhelming impulses of ambition that beckon to crush the borders if they study the strengths and weaknesses of Jupiter in Capricorn:
insight, organization, talent as a strategist and curator, responsibility and ambition;
emotional coldness, adherence to the great idea of ​​purpose – first of all, professional success, and then communication with loved ones and entertainment, stinginess;
Jupiterian luck appears in flashes several times in life, and laziness draws  into a whirlpool and does not allow people to use the chances in full force;
range from arrogance and pride to generosity and forgiveness, depending on the circumstances and emotional response;
careful choice of friends and associates, respect for those whom they let close to the soul, devotion and loyalty;
a painful sense of justice – for the sake of compliance with the law, they will prosecute a loved one or, conversely, violate all prohibitions in order to release them.
Overcoming despotism and greed is possible through the study of the moon. The development of compassion, understanding of psychology and caring for loved ones are vital for a child with Jupiter in Capricorn. Yellow sapphire in native jewelry will help to calm Saturn.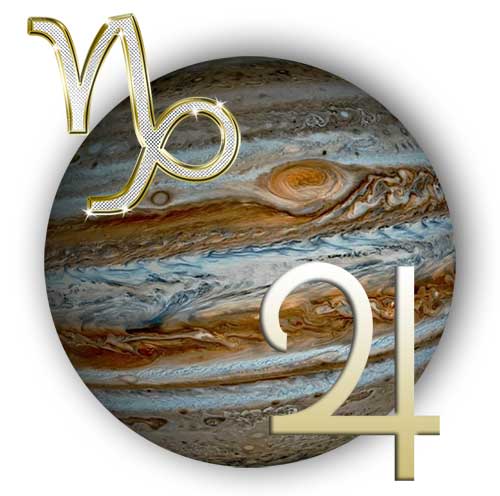 Jupiter in Capricorn in male and female chart
The earthly Jupiterians are contradictory natures. They attracts with a powerful force, restrained by a disciplined mind, and a keen intellect. A warrior in a business suit and a plan to conquer the world in the pocket. It is hard to believe that such person does not believe in the reality of a dream, is afraid to break the law and get into a mess, and in despair,  begins to put ego above earthly decrees and go to the goal head over heels.
This warrior needs a woman with a developed Moon, whose devotion and belief in the success of the rebellious Jupiter in Capricorn will give the necessary emotional mood and the right guidelines. Considering that a career, restrained by Saturn, goes from rise to fall, and pride suffers from enemy arrows, the love of a wife or mother will become the native's shield. Religious fanatics are often found among the men of this plan.
A woman with Jupiter in Capricorn is intelligent and ambitious to the extreme. This combination gives the ability to withstand the most severe discipline for the sake of a great goal. The character is dominated by the male line of behavior – a demonstration of personal strength, harshness and rudeness in relation to competitors, straightforward judgments.
She is a great organizer and loyal friend, but trust must be earned. In her youth, one should not expect love adventures and crowds of admirers, but by the age of 35, the earthly Jupiterian will be able to learn how to control the icy fire of her temperament and will appreciate the attention of influential and powerful men of the highest social circle, to which she aspires all her life.
Important aspects with other planets
For the harmonious development of Jupiter in Capricorn, it is necessary to ensure a balance of energies between the Moon and Saturn, which is facilitated by a warm emotional atmosphere in the family, attentiveness and care of the mother and father, their development of imagination, empathy and a reasonable attitude to money in the native.
The second task is the balance of Jupiter and Saturn, where it is required to develop a sense of duty and justice, not forgetting about personal value for the world. Harmonious aspects between the planets will help overcome pessimistic fatalism and an innate sense of loneliness.
The negative aspect between Jupiter and Saturn is interpreted as financial failures, but if there is a good connection with Mars and Neptune, decisiveness and intuition will help to avoid collapse, especially if there is support from Venus, softening monetary restrictions and dryness of character. With the opposition of Jupiter and Saturn, trials come in the middle of life, when a choice arises between everyday comfort and fidelity to purpose. If the native passes the exam, then the rise to success is guaranteed.
Additional description
People born with Jupiter in the sign of Capricorn are honest, sincere, loyal, resourceful, resourceful and well versed in different mechanisms. Their attempts to grow, develop, seek new opportunities and desire to succeed are combined with caution, discretion, discipline, systematicity, practicality and organization. Such people are passionate about achieving success, even if it does not bring satisfaction or happiness. They tend to insulate themselves from the rest of the world, financially and emotionally.
People with Jupiter in Capricorn hate waste, rely on their own strength and self-control, and want to have power over others. They can reach unprecedented heights if they remain honest, loyal, polite and will not go where thry do not need to.
Share with your friends. +5 to CARMA