A huge planet named after the Roman god of thunder brings wealth and good fortune through social connections. Success in society, philosophical principles and a happy marriage of Jupiter in the sign of Aquarius depend on friends and their own search for truth. They rush to help those in difficult situations, and subsequently receive awards and patronage from wealthy patrons.
Karmic circle support and the theory of the five handshakes are the key to the career takeoff of Jupiter in Aquarius. These are potential Freemasons who yearn for freedom, equality and fraternity for all circles of society. Calmness, kindness, mercy are perfectly combined with courage, a fountain of original, and sometimes eccentric, ideas and movement along the path of progress. The damaged planet encourages the ward to fight with the authorities and the law, violate the borders with dangerous freethinking, which can lead to death.
The influence of Jupiter in Aquarius on fate
Spiritual growth goes through the separation of falsehood from truth. Developed intuition, an innate understanding of psychology, interest in the occult sciences help to understand religious and philosophical theories and choose the one that suits the high ideals of the air Jupiterians. They often become ardent neophytes defending new reforms and ideas.
By speaking out against false authorities, the owners of such Jupiter often destroy personal relationships and deprive themselves of the chance for a brilliant career for the sake of a bombastic idea. In a difficult situation, they are thrown to extremes: adherence to honesty and justice is replaced by bribery and betrayal, and so on in a circle. Such people hesitate and do not know which landmarks to choose. An understanding of the psychology of the influence of Jupiter in Aquarius on fate and character can help in this:
friendliness, courtesy, wit, altruism, generosity, charm, openness, brilliant intellect;
creativity, rich imagination, idealism are combined with practical acumen and egocentrism;
leadership position and authority are revealed in the team with the support of a team of like-minded people, friends, sponsors – one will not fight;
the need for communication and discussion, public demonstration of creativity, ideas, projects;
the desire to use power with the maximum benefit for society, for the development of art, medicine, and helping the poor;
protest against evil and injustice through creativity, opposition rallies, media – potential rebels;
help from foreign partners, marriage with a foreigner and success in another country is possible;
irascibility, everyday infantilism, frivolity, tactlessness, recklessness are the main negative features.
The path of the owners of Jupiter in Aquarius to success is never easy. They make the way through thorns to the stars. If they manage to combine the originality of the thinking of Uranus with the prudence and wisdom of Saturn, then they can seize on lucky opportunities and take off. There will be several such chances in life.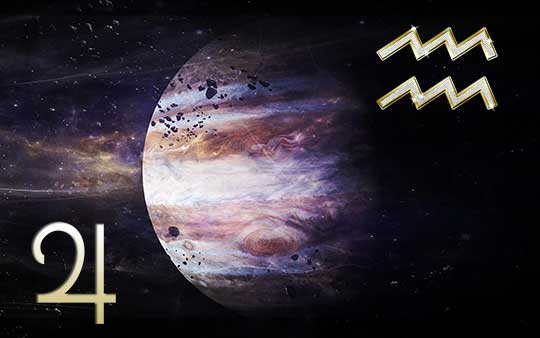 Jupiter in Aquarius in a man and a woman
Air Jupiterian man makes his way to the heights of power with the help of the word. A sharp mind and eloquence allow him to become famous, rich and even fall in love with a lady of the heart through rhetoric. Fiery speeches and graceful lyrics of words help break out into a leadership position and become a close friend of influential people.
The motto of the owner of Jupiter in Aquarius is – check everything in practice. He is greedy for experiments in cognizing his own inner world and therefore seeks emotional shocks, provoking conflicts, disputes, revolutions. It's hard to live with him. The native changes from an attentive and gentle companion to an eccentric destroyer of old ideals. He needs a change of scenery, travel, communication and a wife with whom he can talk until the morning and make plans to conquer the world.
Aerial Jupiterian lady hovers in the clouds. Dreams can elevate it if she develop a practical grasp and translate them into reality, and destroy it when leaving the world of illusion, which often happens with the difficult position of Neptune. A benevolent, gentle nature, non-conflict and attentiveness to the needs of others attracts many friends to her.
Men are crazy about erudition, originality of style and depth of spirituality of a girl with Jupiter in Aquarius. In addition, she is free from prejudices and does not limit her husband in communication and bold ideas. The surest way to lose her is to get jealous. She does not stay at home, constantly studies, travels and keeps in touch with representatives of different social strata. She achieves success in creativity and pedagogy.
Important aspects with other planets
In the presence of a strong position of the Sun or favorable aspects with it, the owner of Jupiter in Aquarius easily becomes a significant figure: a reformer politician, founder of a new philosophical or religious system, an artist with original self-expression. Harmonious connection with the Moon – success in psychology, medicine and teaching, as well as a successful marriage for a man.
The conjunction of Jupiter in Aquarius with Uranus brings income from unexpected sources and help in difficult situations from mysterious strangers. It seems that miracles happen to the native on a regular basis, and money is falling from heaven. Square with Uranus gives a painful desire to stand out from the crowd at any cost. In the struggle for fame, a person is not afraid to be known as an eccentric freak. On foreign trips, dangerous adventures await this individual, the likelihood of becoming a victim of scammers.
Additional description
People born with Jupiter under the sign of Aquarius are humanitarian and care about the welfare of all people. They believe in the universality of life and the brotherhood of people. Reforms and large group projects are peculiar to them, as they give people a wide scope for personal growth and development.
Such individuals work well with other people on a team, due to their resourceful minds, sharp judgment, great intelligence, and friendliness. Such Aquarians are intuitive, tolerant and sociable. They would be ideal diplomats, labor relations specialists or HR managers because of their dexterity in dealing with different social groups of people.
Celebrities with the Jupiter in Aquarius:
Share with your friends. +5 to CARMA