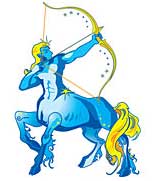 Sign period : (November 23 – December 21)
Planet : Jupiter
Element: Fire
Sign property: changeable, fickle, mutable

Sagittarius is a full-fledged representative of the fire element, and his explosive temperament becomes a confirmation of this. This sign is an example of a harmonious combination of internal and external energy. The characteristic of Sagittarius shows that he is open to communication and friendly with others, which deservedly gives him the title of the public's favorite. At the same time, this is a rather freedom-loving type who painfully perceives any encroachment on his own freedom.
A good heart and a sincere attitude towards people cannot be taken away from Sagittarius, but excessive impulsiveness often ruins him. In addition, this fire sign often affects other people's interests and, even trying to protect them, often encounters misunderstanding.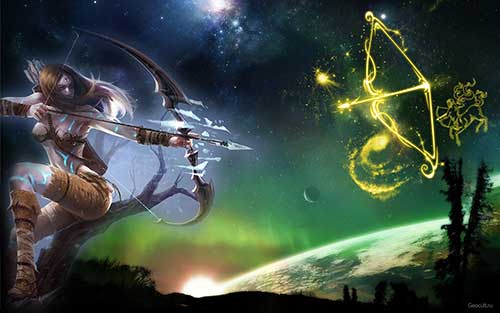 According to the characteristics, Astrologers, not without reason, distinguish two types of Sagittarius – noble, idealistic seekers of truth, vaguely reminiscent of Robin Hood, as well as greedy dodgy financiers who are ready to erase any obstacle in their path. The latter are unbearable in their quest for power and money.
Sagittarius, like other representatives of the fire element, hate any manifestation of criticism. Even sincere, kind advice, these hot-tempered people will reject in the most impartial way, offending the person who showed concern.
Sagittarius man – characteristics
This strong, cheerful man is endowed with the ability to remain frank and talkative even in the most awkward situations. Perhaps his tact leaves much to be desired, but such is the nature of a fiery man. The characteristic of the Sagittarius man also suggests that he can truly be friends, showing great patience and understanding for the shortcomings of loved ones.
Sagittarius enjoys public attention because he always starts interesting conversations. At times he is childishly spontaneous and carries a strong positive charge.
Among other things, this man has a truly rare luck. He is very successful in business. Most likely, this is due to the fact that he easily finds a common language with people.
In relationships with others, the Sagittarius man is looking for a real interest in communication. This sign bypasses closed and gloomy people, but it is always happy to exchange a few words with the same open type. His sense of humor invariably finds its connoisseurs. The fiery man has few enemies, but Sagittarius does not take those seriously either, because infinite optimism does not allow him to react to their malicious attacks. Many consider Sagittarius to be cruel and tactless, but this comes from him unintentionally, in his heart he is a very kind person, and he can offend someone only through his inattention.
The characteristic of the Sagittarius man suggests that he has some frivolity and a superficial attitude towards love affairs. It is difficult to discern in this diversity-loving nature deep sensuality and the ability to experience strong affection. As a rule, before getting married, Sagittarius manages to be disappointed in many women, but this does not make him lose heart: he, as before, is cheerful and cheerful. And, of course, he is full of hope to find the one, the one and only.
A man born under the sign of Sagittarius does not have a penchant for long-term relationships. The secret to conquering and keeping this fire sign next to you is to provide it with the necessary degree of freedom in everything. Then he will be gentle and considerate with his beloved. It should also be remembered that Sagittarius loves household women who know how to create an atmosphere of warmth and comfort in the house.
Sagittarius woman characteristic
The Sagittarius woman is the embodiment of friendliness. She is always full of enthusiasm and ready to meet anyone who wants to initiate communication with her. Among the shortcomings that determine the characteristics of the Sagittarius woman , one can single out excessive straightforwardness and lack of tact. This lady is by no means a coquette, she prefers to behave naturally with men and often acts as a combat friend or daughter of the regiment.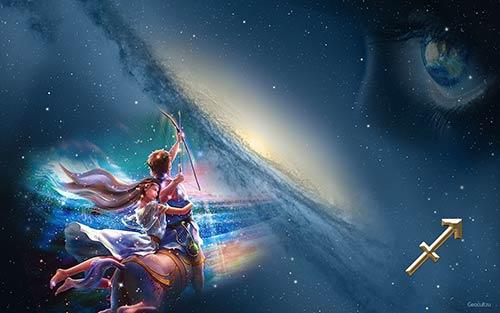 The requirements of a fiery woman to her chosen one are not high. She can fall in love not because of, but in spite of, clinging to some one feature of a man – for example, an optimistic view of the world around her. However, it is not so easy to persuade this lady to marry. She is very independent and freedom-loving. As a teenager, she most likely left her parental home to support herself.
A Sagittarius woman does not like manifestations of weakness in a man's character, and can even openly tell him about it. She likes strong, purposeful, interesting people in communication, and there are quite a few of them in her environment, since they feel the powerful energy emanating from this lady.
The characteristic of a Sagittarius woman speaks of her boundless kindness. She will never refuse help if you ask her for something. But you just need to ask, not to command, otherwise you can push her away from you.
Lady Sagittarius is not very economical, she is more suitable not for a man inclined to house building, but a sensitive friendly partner who adores freedom, like her.
Sagittarius sexual compatibility
Up to 30 years old, Sagittarius will find a like-minded person in the person of Aries or Leo . Their energy will merge together and create a powerful stream. In addition, the partners will be quite independent. In later years, Sagittarius may meet Virgo or Gemini . Both signs have a strong intellectual foundation. After forty years, Sagittarius can find their happiness with Taurus or Libra , who can easily endure the presence of a power-hungry partner.
Share with your friends. +5 to CARMA
Articles from category:
Moon in the sign of Sagittarius
The moon, being in the sign of Sagittarius, acquires the qualities of the elements of Fire: energy, activity, independence and love of life. Since Sagittarius is a...